Vented Umbrellas for Windy Wintry Days
25 January 2015 | Admin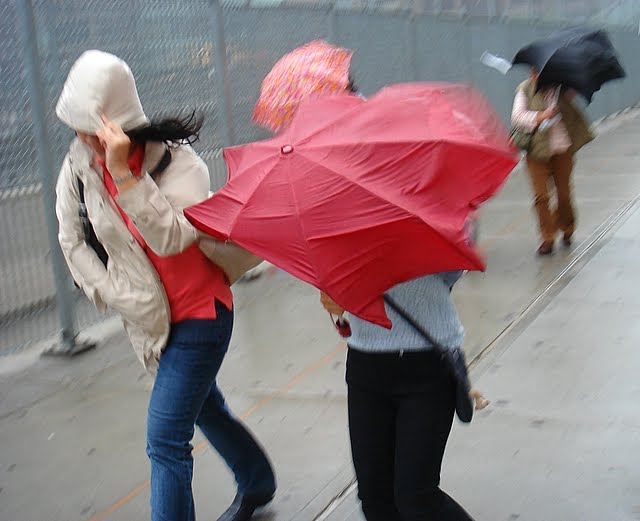 Unless you have been hiding indoors for the past week or so, or have escaped the UK for some Winter sun, it can't have escaped your attention that the weather outside is rather windy at the moment. We have been quite lucky in central Scotland as we haven't seen much snow yet, but there has certainly been a few gusty rainy days where a sturdy windproof umbrella was needed to get into work in the morning! Not only that, there is a sharp nip in the winter winds just now, that cuts right through you if you are not wrapped up well against the elements. All in all, I would say I have used my umbrella more this year so far than I did this time last year.
In these wintry conditions we all want an umbrella that will shelter us from the rain, but also resist the wind, preventing those horrible sitations where the umbrella inverts, and in many cases, causes it to break. Well, at Brolliesgalore we have a few solutions to this issue. Not only do we have a fantastic range of
windproof umbrellas such as the Blunt Umbrella
, which is available in a variety of sizes and can withstand very high windspeeds without damage to the frame, but we also have a
selection of vented umbrellas for both men and women
which aim to prevent your umbrella from flipping inside outn by allowing wind to pass through the canopy by means of a small vent. This reduces the windshear on the umbrella which can cause the umbrella to invert and damage the frame.
So this week we thought we would look through a selection of the vented umbrellas that we have available at Brolliesgalore. They are available in a range of styles and look great all year round. So if you like the selection we have chosen for you today, and want to find out more about the range of umbrellas we have available in this category, why not
visit our Vented Umbrellas page at Brolliesgalore
to see our full range and make sure those winter winds don't bite in 2015!
Vented Umbrellas for Windy Wintry Days
Stormking Sport 135 Black Vented Golf Umbrella
The
Stormking Sport 135 Umbrella
is new to Brolliesgalore as of winter 2014/15 and is a very durable vented black golf umbrella that would suit the man of leisure and is a giant golf vented black umbrella in a sports style. The large canopy is vented to provide better windproofing in higher winds, and the stylish high grip dense foam handle gives provides the user with extra comfort when in use. For those moments when you are caught in a downpour, simply press the button at the bottom of the shaft, and this umbrella will extend rapidly to full size. This umbrella has super-strong fibreglass ribs and a sturdy fibreglass shaft, making this umbrella more manageable and less heavy. Comes with protective sleeve.
Automatic opening, super strong fibreglass ribs and sturdy fibreglass shaft
Gustproof vented canopy
High grip dense foam handle
Length including handle 100cm
Span when open approx 135cm
Weight 685g
Purple Paisley Ladies Golf Umbrella
The gorgeous
Purple Paisley Ladies Golf Umbrella
is one of three different colours available in this stylish range. These incredible Giant Golf Umbrellas were designed with ladies in mind and are made to the highest standards, featuring subtle feminine prints. They have a quality fibreglass shaft and ribs and are automatic opening. The canopy is vented to allow strong gusts of wind to pass through. They have a rubberised straight golf handle, a double strap closure and have a fitted protective sheath.
Automatic opening, quality fibreglass shaft and ribs, 8 ribs
Rubberised golf handle and has a fitted protective cover
canopy has wind vents and a double strap closure
Length including handle 99cm
Span when open approx 130cm
Weight 810g
Stormshield Golf Umbrella - Blue/Navy
The
Stormshield Golf Umbrella by Fulton Umbrella in Blue/Navy alternating panels
, is a stylish and lightweight extra-strong fibreglass/polypropylene frame with unique vents designed to reduce the risk of turning inside out. It features a pinch-proof runner on a 14mm diameter shaft for extra strength. Umbrella has a manual opening frame, 8 ribs, an extra large golf sized canopy and a high-performance polyester pongee vented cover.
Manual opening, lightweight extra-strong fibreglass/polypropylene frame, 8 ribs
By Fulton Umbrellas
Easy-to-grip rubberised handle
Stylish case for extra protection
High performance polyester pongee vented cover
Extra large golf sized canopy
Length including handle 99cm
Span when open approx 130cm
Weight 600g
Blog Categories
Brolliesgalore Blog