Wedding Umbrellas - The perfect accessory for your summer wedding
29 April 2022 | Admin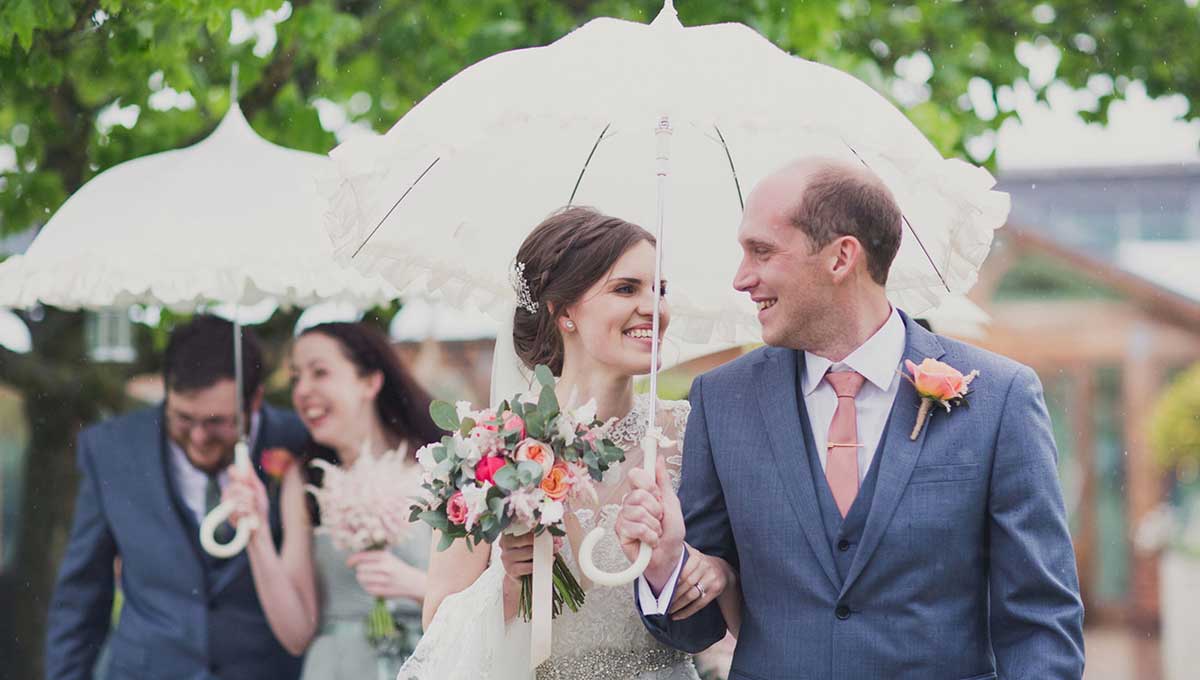 No April Showers but are we heading for a wet summer?
Be prepared with the perfect accessory for your summer wedding
Wedding season is just around the corner and if you're anything like us, your home will be full of scrapbooks, notes and ideas!

But as we all know, planning a British wedding comes with the inevitable risk of bad weather - some days it's pouring and the next we're in our gardens sunbathing! So to ensure your wedding day isn't ruined by a sudden downpour, take a look at our tips below.

1. Remember that preparation is key!

When it comes to your big day, as much as you can hope and pray for glorious weather, you should make sure you're prepared for all conditions. You might want to think about making a plan with the photographer for indoor shots, taking extra footwear and a change of dress, or even having cotton towels ready for guests.

2. Embrace it

The best way to stop the weather from ruining your wedding is to make it a part of the day! From welly centrepieces to little umbrellas in drinks, the options are endless. Instead of handing out wine or champagne for the toast, why not offer guests hot chocolate, tea and coffee instead? Blankets also make lovely seat decorations and could be a nice keepsake or favour for guests to take home with them.

3. Purchase some wedding umbrellas

Another thing you could stock up on is wedding umbrellas! These can be used to shelter you from both the sun and rain, and are designed specifically for special occasions. The great thing is that they come in so many gorgeous designs that they won't ruin the look or theme you were going for.

Many brides and grooms opt to give their groomsmen and bridesmaids umbrellas as gifts as they are such great value. Another amazing thing that we love about them is that the majority can be shared between at least two people, which is perfect if the bride and groom want to cosy up to each other, or they want to share a special moment with members of their family.

Find your perfect wedding umbrella today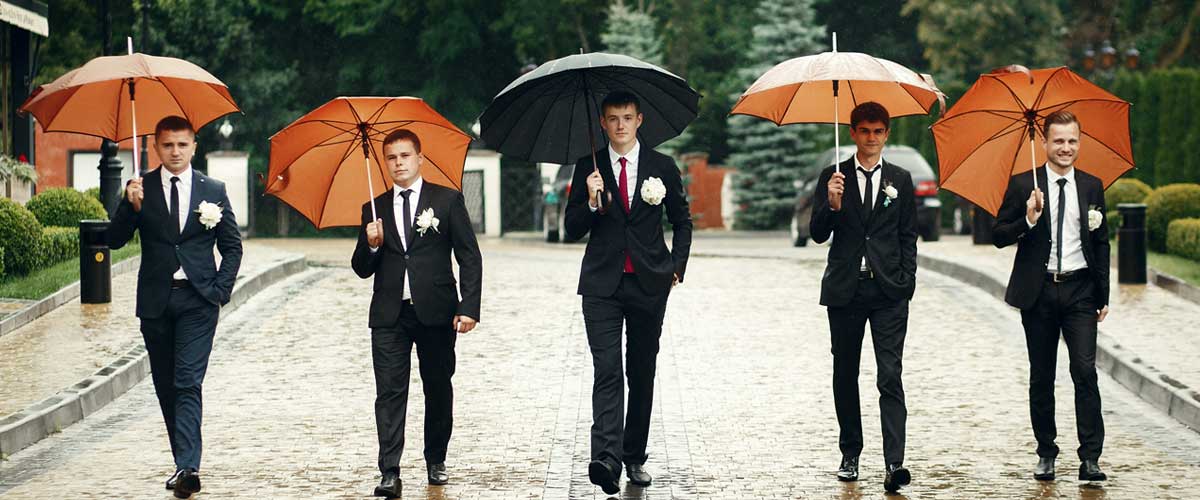 With umbrella styles, the world really is your oyster! They can match your wedding attire or colour scheme perfectly. With so many options available, you can even pick your umbrella based on the finer details of your wedding, like the type of fabric used on the bride's dress, cravat colours and bridesmaid's outfits.
White, ivory and cream wedding umbrellas are a great choice if you want to go for a more subtle, traditional look. They would also look stunning set against a piercing blue sky if you are heading abroad for your wedding. For those brides looking to add extra detail or something a little bit different from the norm, there are lace wedding umbrellas that have a vintage yet chic finish.

One of our bestselling umbrellas, the Lisbeth Ivory Flounce Pagoda, is extremely popular with brides around the UK. This truly delightful design by Chrysalin features a vintage flounce frilled edge and the matching fabric handle features a cute bow detail.

We wish you all the best for your wedding day and hope your future is filled with happiness! For more information about our wedding umbrellas, contact us at Brollies Galore today on 0345 602 3712.