Ideal Umbrella Gifts for Father's Day on 17th of June
7 June 2018 | Admin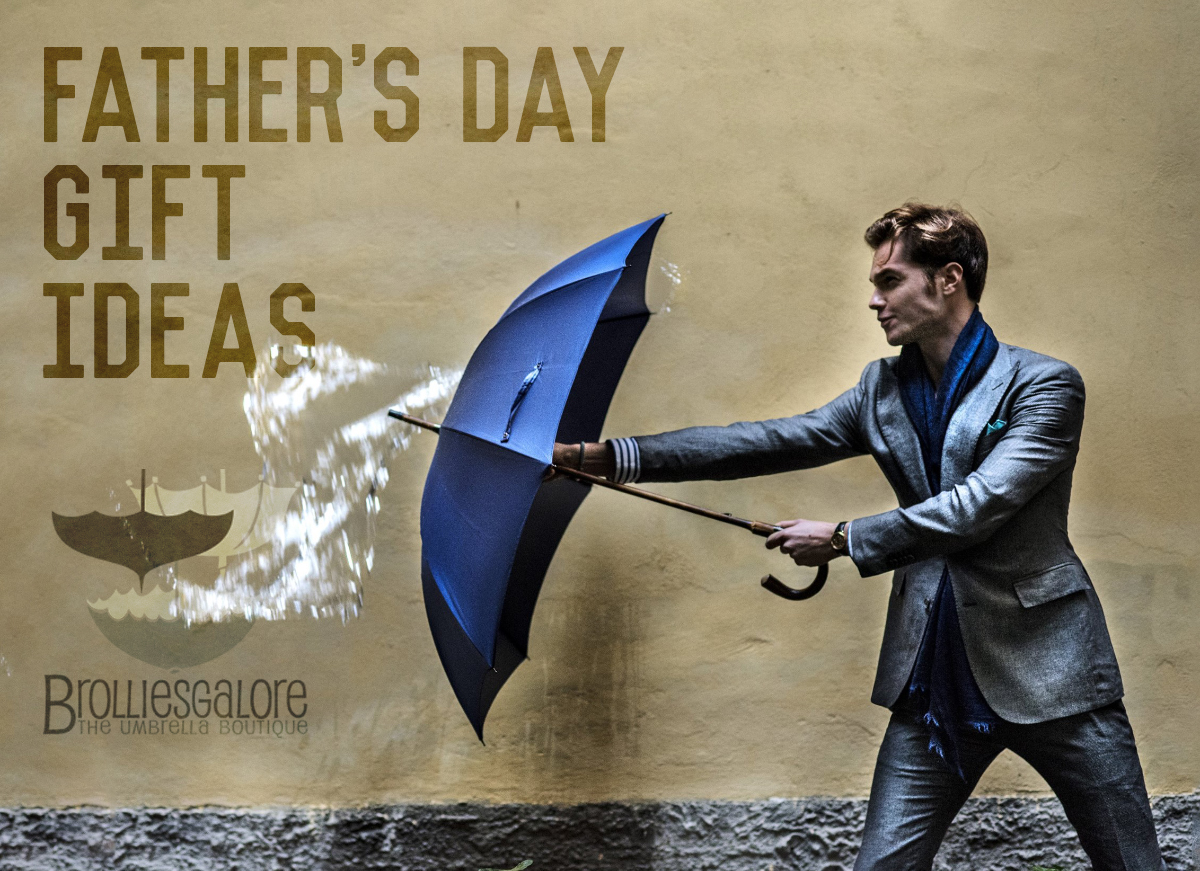 It's Father's Day again on the 17th of June and for many of us it can be notoriously difficult to figure out what to buy our dads this time of year. With the weather in the UK being so unpredictable, why not give them a gift that can be used all year round?
The choice of umbrellas in this blog post covers a wide range of styles to suit every budget. However, if none of these meet your gift-buying needs, you can see our full catalogue of umbrellas via the menu bar at the top of this page.
We hope these suggestions help you in choosing your Father's Day gift, but if you do have any further questions, please let us know at the bottom of this page, or you can always contact us directly.
Luxury Gents Umbrella with Chrome Greyhound Handle by Pasotti
This Luxury Gents Umbrella with Chrome Greyhound Handle is an elegant gentlemen's black umbrella, made by Italian designers Pasotti, would make a wonderful Father's Day gift for Dads who enjoy a day at the greyhound track. This exquisite designer umbrella has a canopy made from the finest Italian polyester. Also features a silver coloured automatic opening metal frame, and is topped by a beautifully made greyhound headed

chrome handle. Features tie band with popper fastener.
Automatic opening, silver coloured metal frame

Italian leather crook handle

Popper fastener

Made in Italy

Length including handle 96cm

Span when open approx 100cm

Weight 642g
Senz Original Walking Length Windproof Umbrella - Secret Fantasy
The Senz° Original Walking Length Windproof Umbrella in Secret Fantasy design is a robust windproof umbrella ideal for those Dads into outdoor pursuits. Black outer canopy and grey and black Secret Fantasy design on the underside. The first and number one storm umbrella: the Senz° original is comfortable, stylish and designed so that it will never go inside out, even in a storm! The unique aerodyamic shape ensures you'll never have to struggle with your umbrella again. The Senz° Original aerofoil shape allows this umbrella to float on the wind, making it very easy to hold with just one hand. Designed and tested to withstand a serious storm, with winds up to 80 km/h. The senz° original will not let you down in bad weather. What's more, thanks to a protective layer in the canopy, the Senz° Original offers UV protection of 50+ SPF. Ideal for sun, wind and rain! Comes complete with a luxury carry sleeve for ease of portability when not in use.
By Senz Umbrellas

Pull to open mechanism

Soft-touch sponge handle

Luxury carry sleeve with strap to carry over your shoulders when not in use

Unique eyesaver safety tips at the end of each rib

Streamlined aerofoil profile makes walking in windy conditions easier

Windproof tested up to 80 km/h

High quality canopy offers UV protection of 50+ SPF

Length including handle 79cm

Span when open approx 90 x 87cm

Weight 440g
Blunt XL Golf Umbrella - Red
If you are looking for a Father's Day gift with the height of windproof technology, look no further than the Blunt XL Golf Umbrella, here in Red. The Blunt XL is a revolutionary extra-strong, extra-large red windproof umbrella with Radial Tensioning System. 6 Double struts with telescopic floating ribs. This redirects, transfers and distributes tension right to the edge, where it is needed most. Creating a substantial unflappable, aerodynamic windproof canopy which provides effective shelter even in stormy conditions way beyond the capability of any conventional umbrella. Generous golf sized canopy.
By Blunt Umbrellas

Easy-to-grip rubberised handle

Stylish tube for extra protection and storage

Length including handle 94cm

Span when open approx 137cm

Weight 875g
Fulton Open & Close 11 - Automatic Folding Umbrella Black
If the walking length and golf umbrellas are a bit too long for your gift-buying needs this Father's Day, then why not consider a compact automatic open & close folding umbrella that can fit easily into a briefcase or bag. The Black Fulton Open & Close Folding Umbrella by British manufacturers Fulton features a luxurious woven fabric and boasts an automatic open and close mechanism at the simple touch of a button. The umbrella has an extra large cover and comfortable wooden crook handle.
Automatic opening & closing at the touch of a button

Comfortable wooden crook handle

Extra large cover

Luxurious woven fabric

Length including handle 33cm

Span when open approx 96cm

Weight 473g
Blog Categories
Brolliesgalore Blog